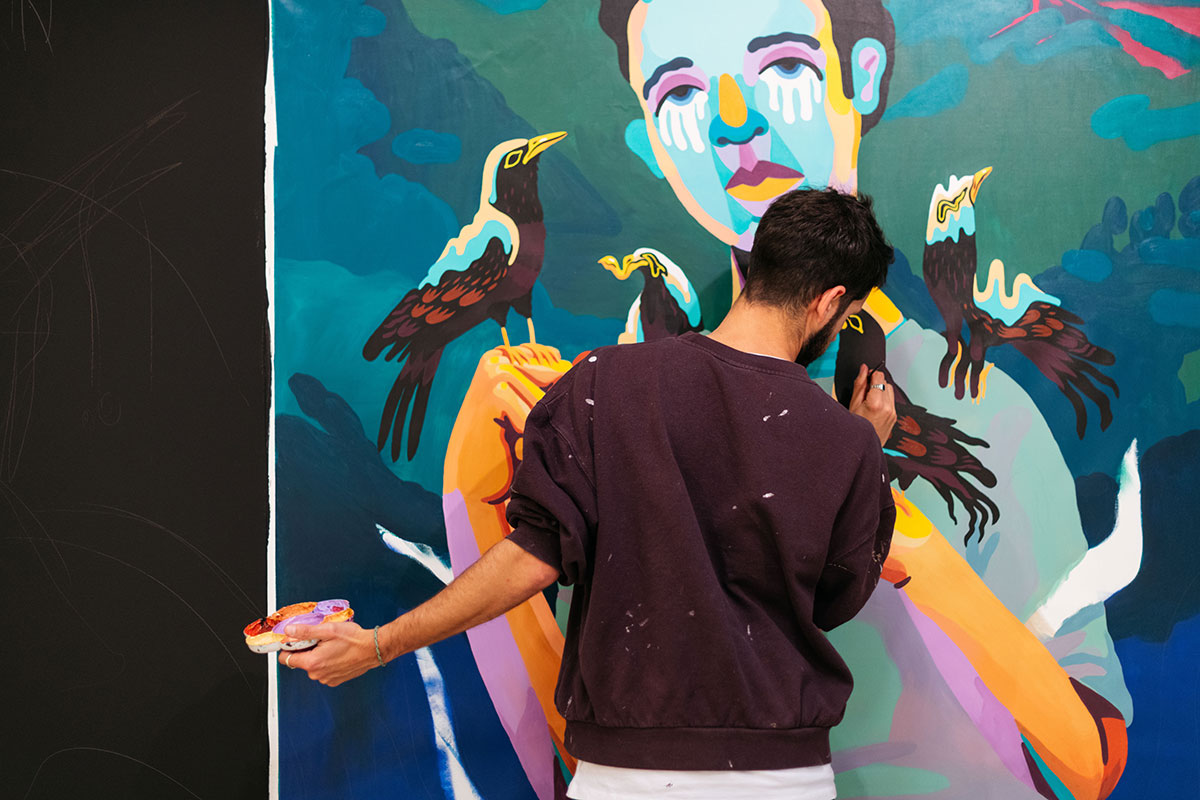 Marcos Navarro is an illustrator and painter born in Barcelona, with base in the Basque Country. 
His practice includes a wide range of media, including painting, mural and illustration. He has created original art for both textile design, fashion and music.
Worked for clients like Adobe, Universal Music, Seat, Volcom or Random House. Marcos Navarro has painted several murals and showed his work in Europe and the USA.
His work is constantly related to wildlife and nature. Living a crucial moment for the planet Earth, critiques human society as we know at the moment, concerned with the results of our behavior and mistakes through our development.
SELECTED CLIENTS
Instagram
Adobe
Universal Music
Basqueland Brewing
Volcom
Patagonia
Random House
Seat
2022
"Volcom Leopard"- Mural ⎜ Peniche - Portugal
"Open Minded" -Miscelanea Gallery⎜ Hybrid Art Fair - Madrid, Spain
2021
"Volcom Siren"- Mural ⎜ Hossegor - France
"Craft Beer Design" - Book published by Gestalten
2020
"Vanguard" - Group show⎜ Outré Gallery - Melbourne, Australia
"Mountains" - Book published in 4 languages
"Tiempo" - Group show⎜ ArteUParte - Donostia
"Recién Pintado" - Group show⎜ Badalona, Barcelona
2019
"12.12" - Group show⎜ Spectrum - Barcelona
"Broken Cycles"- Solo exhibition⎜Talon Gallery - Portland, Oregon
"Oceans" - Book published in 5 languages
"Futur Fest"- Mural⎜ Turin - Italy
"Olatu Talka"- Mural⎜  Loiola - Donostia
2018
"Wilderness" or "Jungles" - Book published in 9 languages
"Puertas" - Group show⎜ Tabakalera - Donostia
"Summer Vibes" - Group show⎜ El andén - Barcelona
2017
"Binomio"- Solo exhibition⎜ Miscelanea Gallery - Barcelona
Graphic works - Solo exhibition⎜ BBKafé - Donostia
Local Art Pareta - Solo exhibition⎜ Kokojaten - Eibar
"Points de Vue"- Mural⎜ Street Art Week - Bayonne
2016
"Binomio" - Solo exhibition⎜ ArteUParte - Donostia 
KutxaKultur Festibala - Group show⎜ Fnac y ArteUParte - Donostia
"Surfcity" - Group show⎜Fabra i Coats - Barcelona
"Experiment 2100" - Group show⎜Cosmocaixa - Barcelona
"Insight" - Solo exhibition⎜Punt Multimedia - Barcelona
"Projet Vénus" - Group show⎜Spacejunk - Bayonne
"Binomio" - Solo exhibition⎜Gazteleku - Irun