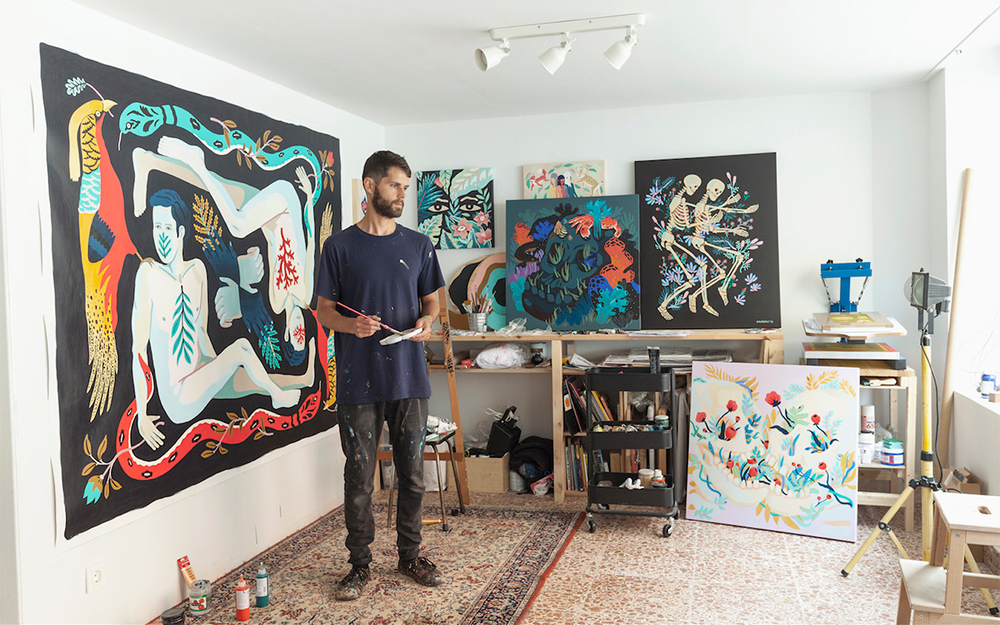 I'm an illustrator and painter with a base
in both Barcelona and the Basque Country.
I have created original art for both textile design, fashion and music.
In my personal work as a painter and street artist, I am influenced by nature, as well as urban subcultures of my hometown.
I consider myself a multidisciplinary artist, as I really enjoy working in different areas. Whether working on illustration commissions, or on my paintings and murals.
SELECTED CLIENTS
Adobe
Universal Music
Volcom
Patagonia
Thrill Jockey
Random House
Seat
2019
"Broken Cycles"- Solo exhibition⎜Talon Gallery - Portland, Oregon
"Futur Fest"- Mural⎜ Turin - Italy
"Olatu Talka"- Mural⎜  Loiola - Donostia
2018
"Wilderness" or "Jungles" - Book published in 9 languages
"Puertas" - Group exhibition⎜ Tabakalera - Donostia
"Summer Vibes" - Group exhibition⎜ El andén - Barcelona
2017
"Binomio"- Solo exhibition⎜ Miscelanea Gallery - Barcelona
Graphic works - Solo exhibition⎜ BBKafé - Donostia
Local Art Pareta - Solo exhibition⎜ Kokojaten - Eibar
"Points de Vue"- Mural⎜ Street Art Week - Bayonne
2016
"Binomio" - Solo exhibition⎜ ArteUParte - Donostia 
KutxaKultur Festibala - Group exhibition⎜ Fnac y ArteUParte - Donostia
"Surfcity" - Group exhibition⎜Fabra i Coats - Barcelona
"Experiment 2100" - Group exhibition⎜Cosmocaixa - Barcelona
"Insight" - Solo exhibition⎜Punt Multimedia - Barcelona
"Projet Vénus" - Group exhibition⎜Spacejunk - Bayonne
"Binomio" - Solo exhibition⎜Gazteleku - Irun